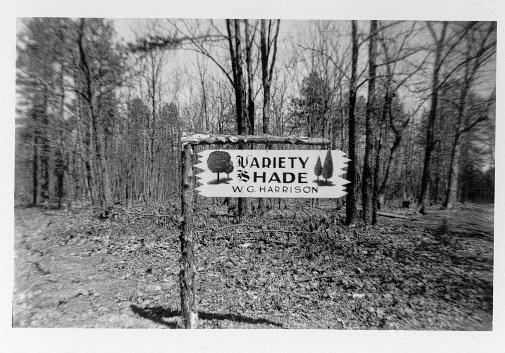 I wanted to write a bit about the Variety Shade house that I knew as a child before it was torn down to prevent a fire that might burn down the nearby trees planted for VSLVA. No one had lived in the house for some years, vandals had broken in leaving all sorts of trash in the house, and no one in the family had an interest in living there or restoring it to its former beauty. I am not sure just when it was torn down, but I know it still existed in the 1960's when Tom and I visited it and saw what a wreck it was. There are some pictures of it at that time on the VSLVA website. My memories of the house itself are inextricably connected to my experiences at Variety Shade, so I shall write about both.
My most vivid memories consist of the summer of 1943 (I think) when our grandmother, Big Mom or Mum as she was called, took Marcia, my older sister, and me to spend the summer there. After a week or so we were joined by our cousin Betsy Harrison. She was driven to Variety Shade by her father, who brought Pop, our grandfather to stay for the rest of the summer. I have vague memories of being at Variety Shade earlier with Sister (Emily Harrison Wilson) and Mum when I was quite young, maybe three or four. I will never forget catching my hand in a mouse trap and being laughed at as the biggest mouse ever caught in a trap!
Later as a teenager I went back to Variety Shade with Mum to go through Aunt Fannie's possessions after she died. Aunt Fannie was Mum's older sister, a spinster, who boarded with relatives in Buckingham County in the winter and always joined whoever came to Variety Shade in the summer. She was stone deaf and decidedly odd. I am now ashamed that we had such little compassion for her.
First for a bit of history. Thomas Bondurant, my great grandfather lived there with his family before the Civil War and was considered one of the finest farmers in the county of Buckingham. There is a silver cup in the Buckingham Courthouse which was awarded to him for being the most outstanding farmer in the county. I have forgotten the date on the cup. After the war the family moved to Auburn, Alabama where Thomas Bondurant taught agriculture for many years. I think the family went to Variety Shade every summer. There was no electricity or running water in the house, and the only heat would have been provided by fireplaces in each room. All in all, not a very comfortable place to be in winter.
Cooking was done on a wood stove in an indoor kitchen which was added to the original house. As was common in the early 19th century houses, the kitchen had originally been in an adjacent building in case of fire while cooking, but that building had been torn down. Close by the house were several small buildings, the ice house, the smoke house, another (I am not sure what it was used for) and farther away, the school house. All these were falling down when I went to Variety Shade as a young child. The pump was nearby, and all water for cooking and washing had to be carried from the pump into the house.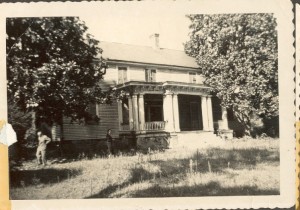 The house itself was a large two story clapboard house with a front veranda where we often sat in the evening to chat or to visit with Uncle Sam and Aunt Sally, our grandmother's brother and his wife, when they came to see us. They lived on a farm called Seven Oaks which was nearer to Buckingham Courthouse. We had few visitors since this was during World War II, and gas was rationed. We did not have a car so we had to get to Buckingham for supplies in a horse and buggy driven by Mr. Hackett, the caretaker, a small jolly man who chewed and spit tobacco. Kerosene for the lamps was one thing we often had to go to Buckingham Courthouse to procure.
Approaching the house was a curved drive with boxwood trees on one side with a big white stone which was used to mount horses I was told. The house was several feet off the ground in front and the veranda was approached by climbing about six large granite steps. I was later told that someone in the county stole the valuable granite, and it is supposedly used in some other house in the county, but I do not know whether or not that is true.
The house itself was about a quarter mile from the highway where we had to walk to get the mail. There was a large front yard which was kept mowed, behind that a fence and woods of many kinds of trees. It was said that Thomas Bondurant had every variety of tree that would grow in that part of Virginia planted on his property, thus the name of the homestead was Variety Shade. On the front lawn we played croquet in the late afternoon. Pesky gnats bit our legs so badly that Mum provided us with long cotton stockings which were uncomfortable but better than being chewed up by gnats.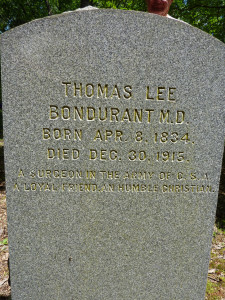 Sometimes we were interrupted in our game by a herd of sheep wandering through on their way to the side and back yard where they grazed unattended. Some distance behind the house was a tobacco field, a garden which provided the vegetables we ate, an outhouse, and beyond that a cemetery which many of us have visited. Back of all these fields was a small house where Mr. Hackett, the caretaker, lived with his family and a cold spring which they used like a refrigerator. The spring can still be seen from the road which runs at the back of the homestead property and leads to the Mulberry Grove church.
The tobacco field was the sight of one of the first stand of trees, loblolly pines, planted by VSLVA, once the corporation was founded in the mid-fifties. Some may remember that we had a picnic among these pines at one of the early Virginia meetings held at the Boar's Head Inn in Charlottesville. Only the older generation would remember that event.
Now for a description of the house as I remember it. One entered the front door into a rather large entry way with a door on the left leading to the parlor where there was a grand piano, a smaller piano, formal furniture and a fireplace at the end. Windows looked out to the veranda and opposite those windows were windows looking out the back. There was a lovely glass chandelier in this room, but I never remember it being lit. We had to depend on hand held kerosene lamps or candles for light anywhere in the house. The parlor was a lovely room where we liked to play in the day time.
Back to the entryway. There were steps on the left side leading upstairs, not a grand staircase, but enclosed steps. A door at the end of the entryway led to the large dining room, and a door on the right of the entryway led to a hallway from which on the right there was a library and beyond that a large bedroom with a window that looked out toward the front of the house. Back of this bedroom was a washroom with a large tin a tub where we liked to play in the water while our grandparents were taking their afternoon rest.
In the large dining room on one side was an ice chest for keeping things cold, and on another wall was a sideboard. In the middle of the room there was a quite large dining table. We always ate our large meal of the day at noon because the servants went home in the late afternoon. Back of the dining room were steps down through a pantry into the kitchen with its wood stove and table for preparing food. A back porch ran from the kitchen along the dining room to another pantry which was always kept locked. On the back porch was a wash basin and dipper. At the end of this porch was a door which connected to the washroom.
Upstairs there were five bedrooms, three facing the front of the house and two more over the dining room and kitchen. In each bedroom there was a screen behind which there was a washstand with a pitcher and bowl for washing and a johnny pot, the next best thing to a toilet. There were no bathrooms in the house. We slept on feather mattresses which had to be aired each day or so. One of our favorite games was to nest ourselves in the middle of the mattress and put a spread over us so that it looked like no one was in the bed. It was a good place to hide. Another game we played was called "gravy in potatoes", the person in the bed being the gravy and the fluffy mattress being the potatoes.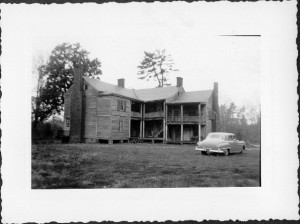 In the closet of the room my sister, Marcia, cousin Betsy and I shared were children's books left from the time Sister, John Wilson's mother, had a summer camp at Variety Shade. I do not know much about that but I think she brought some girls up from Birmingham to enjoy the country life. The books we liked best were from a series called The Bobsy Twins, a story about a family which had two sets of twins.
Because we had no electricity, we had little contact with the outside world. Going for the mail was a daily diversion we enjoyed. We had to create our own games. One favorite one was to catch crawdads from the spring and have crawdad races on the front veranda. Another time we mixed flour, water, red color and poured the concoction on slates to dry, then smashed it up to make face powder. This kept us busy for several days. We also panned for gold in the steam which was really not gold but chips of mica that shined in the sunlight. What a disappointment we experienced when we were told we had not found gold!
One day we decided to explore the old school house which was truly falling down. The door was nailed shut, but we found a way in by climbing through an opening which had once been a window. We found that we could set up some stairs which had fallen over and by mounting them straight, we could access the second floor which was still intact. We managed to find pine boughs one the way back from getting the mail, and we used these for brooms to sweep the trash from the middle of the floor. We played school with all the imagination of young children. This project kept us busy for days at a time. As I think of it now, it is amazing how little supervision we had from adults, so we were able to explore and enjoy freedom that would be unheard of for children today.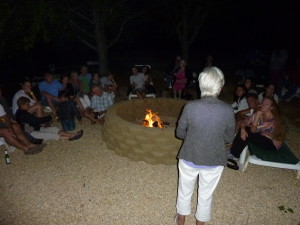 One of the memories I treasure most was listening to the stories our grandmother told us about Variety Shade in the "olden days". She had an unusually strong love for Virginia and told us many stories of not only living there as a young woman but also of the times they came for the summer from Alabama. She had many stories about the times when she was there with her children and older grandchildren. One story we loved to hear was about John Wilson bringing an alligator from Florida and how it hid under the house. Telling stories was one of the most pleasant ways to pass the time before we had the distraction of TV or technology that consumes so much of our children and grandchildren's time today.
The next time I remember Variety Shade was from the time I was married and living in Alexandria, Virginia. VSLVA had already been created by our parents. We were the closest shareholders to the property. Tom, my husband, was the one who really took charge of going to see Mr. Edward MacAlister, the forester, manager of our trees until he retired and Mr Taylor, a local farmer was in charge of cutting the trees. Taking along our young son, Merritt, we walked the property on many occasions putting up signs that said Property of VSLVA.
Tom, Merritt, Baby John and I had one trip with Betsy and Ike Smith and their two young girls. Baby John managed to get into everything and was a mess when Betsy just turned his T shirt inside out, cleaned him up with a wet napkin and made him look as good as new. On that trip we went to look at various Bondurant properties including Fish Pond, now restored, one of the earlier Bondurant homes which was situated along the James River.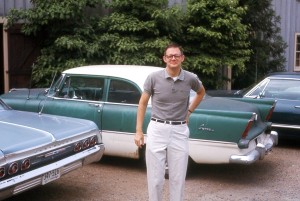 During those years it was Tom Adams who did the major work of keeping VSLVA together. He did the taxes each year, which was no small task, and kept all records and contacts with shareholders. He likes to remind me, and anyone else who will listen, that the first time he went to a VSLVA meeting at Lake Martin before we were married (it was his trip to meet my family) he was not allowed to attend the business meeting. He and Jerry Tompkins were sent to the local washateria to get babies' diapers washed while we had the meeting!
I am sure that others will have stories to tell , and hope you will pass them on to your children and grandchildren. It is a pleasure for me to share the memories I have of the early days of Variety Shade and VSLVA.
Our parents and grandparents had a remarkable vision when they created VSLVA. The corporation has kept us connected as a family and has enabled us to know cousins we would otherwise never have known. Over the years we have enjoyed so many good times together. You, of the next generation, are doing a splendid job of leading us in new directions. To you all I am deeply grateful.